The Study of Process and Characteristics of Woven Fabric from Plant Fibers of Lidah Mertua (Sansevieria trifasciata P.)
Lisa Oktavia Br Napitupulu

Universitas Padjadjaran

Asri Widyasanti

Departemen Teknik Pertanian dan Biosistem, Fakultas Teknologi Industri Pertanian, Universitas Padjadjaran

Ahmad Thoriq

Departemen Teknik Pertanian dan Biosistem, Fakultas Teknologi Industri Pertanian, Universitas Padjadjaran

Asep Yusuf

Departemen Teknik Pertanian dan Biosistem, Fakultas Teknologi Industri Pertanian, Universitas Padjadjaran
Keywords:
mother-in-law's tongue, natural fiber, woven fabric, characteristic
Abstract
Sansevieria or known as tongue-in-law plant is an ornamental plant that is quite popular in Indonesia. This plant is very easily cultivated, easy to grow in areas with less water and sunlight. This plant contains potential natural fibers used as raw material requirements for textile industry, specifically in fabric making. The aims of this research were to determine the production process consisting and analyzing the characteristics of woven fabrics from the leaves of the tongue-in-law plant. The method of fibers extraction used the mechanical decortication process and making woven fabric is done using ATBM. The research method used is descriptive method. Based on the results of the study, it is known that the woven cloth of tongue-in-law has color characteristics with a value of L* 69.73; a* 1.86; b* 17,38; H 83,88. Besides that, it is known the mechanical characteristics of the tongue-in-law woven fabric, the tensile strength of the fabric, the weft  direction of 46.05 kg and the warp direction of 19.96 kg; weft direction stretch 22% and stretch direction of the warp of 55.20%; weft direction tear strength 19.17% and wrap direction 4.60%; and air penetrating power 116.2 cm3/cm2/s.The value of the tensile strength of the tongue-in-law woven fabric produced in the warp direction does not meet the standards of SNI 08-0056-2006 woven fabric quality requirements for suit.Therefore, woven fabric produced is intended as a craft material.
Downloads
Download data is not yet available.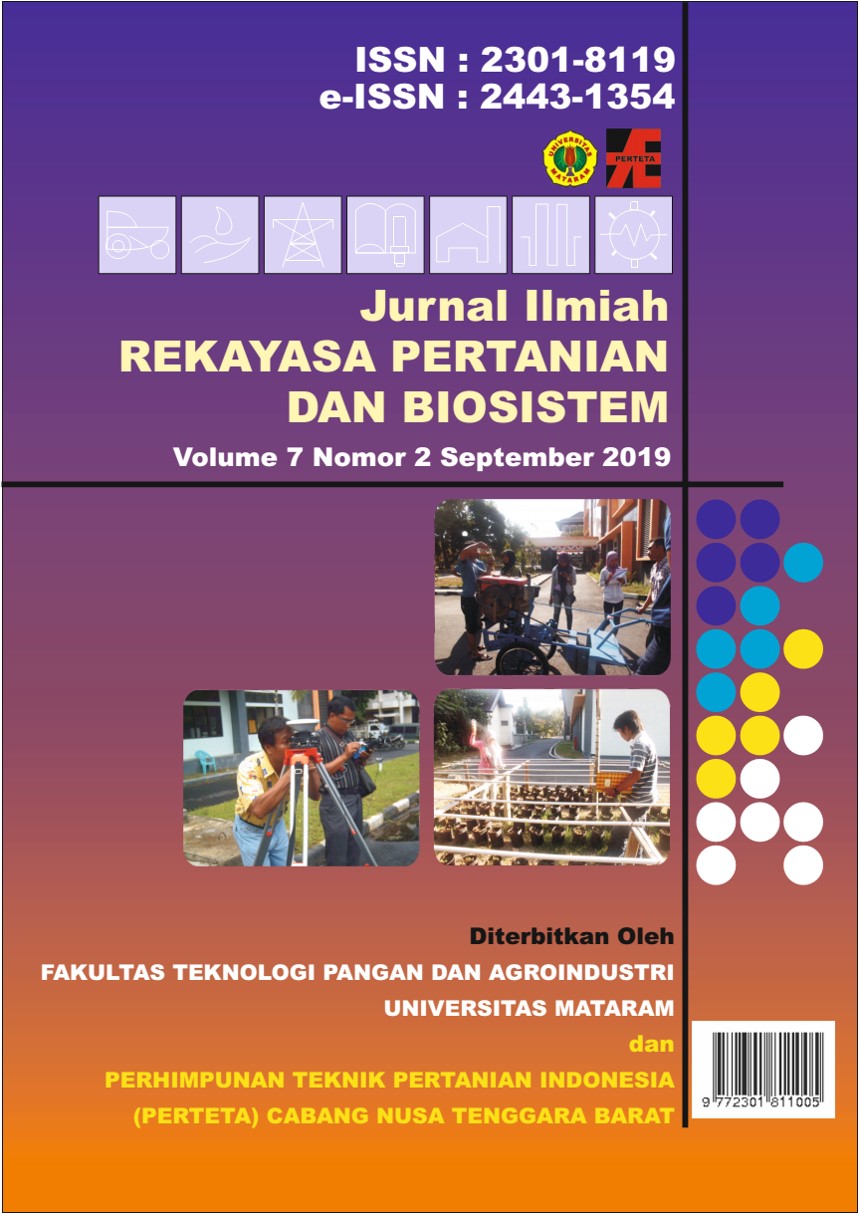 Copyright Notice

Jurnal Ilmiah Rekayasa Pertanian dan Biosistem is licensed under a Creative Commons Attribution-ShareAlike 4.0 International License.