Lignin, Hemiselulosa, and Cellulose Contents of Zalacca Midrib in Physical, Chemical, and Biological Pretreatment
Devi Devi

Prodi Teknologi Produksi Tanaman Perkebunan, Politeknik Lamandau

Dwi Astutik

Prodi Teknologi Produksi Tanaman Perkebunan, Politeknik Kelapa Sawit Citra Widya Edukasi

Muhammad Nur Cahyanto

Departemen Teknologi Pangan dan Hasil Pertanian, Fakultas Teknologi Pertanian, Universitas Gadjah Mada

Titiek F Djaafar

Balai Pengkajian Teknologi Pertanian Yogyakarta
Keywords:
NaOH, pretreatment, steam explosion, Trichoderma reesei
Abstract
This research aimed to determine the content of lignin, hemicellulosa and salacca midrib cellulosa and physical chemical and biological pretreatment, to determine degradation of lignin, hemicellulose and cellulose. Physical treatment used the steam explosion, chemical treatment used the NaOH and biological treatment used the Trichoderma reesei FNCC 6012. Pretreatment using the steam explosion based on temperature consisting 1200C, 1400C, and 1600C. Pretreatment using NaOH based on concentration consisting 2%, 4%, and 6%. While the pretreatment using Trichoderma reesei based on fermentation time consisting 5 days, 10 days, 15 days. The pretreatment reduced the lignin content on salacca midrib. The parameters observed lignin, hemicellulose and cellulose content. The results showed that pretreatment using Steam Explosion with a temperature of 1400C and 1600C reduced lignin levels by 16.03% and 15.90%. Pretreatment using Steam exploision temperature 1600C and Trichoderma reesei 15 days increased hemicellulose content by 35.84% and 36.21%. Pretreatment using Steam Explosion at 1600C had the best effect on cellulose at 51.09%.
Downloads
Download data is not yet available.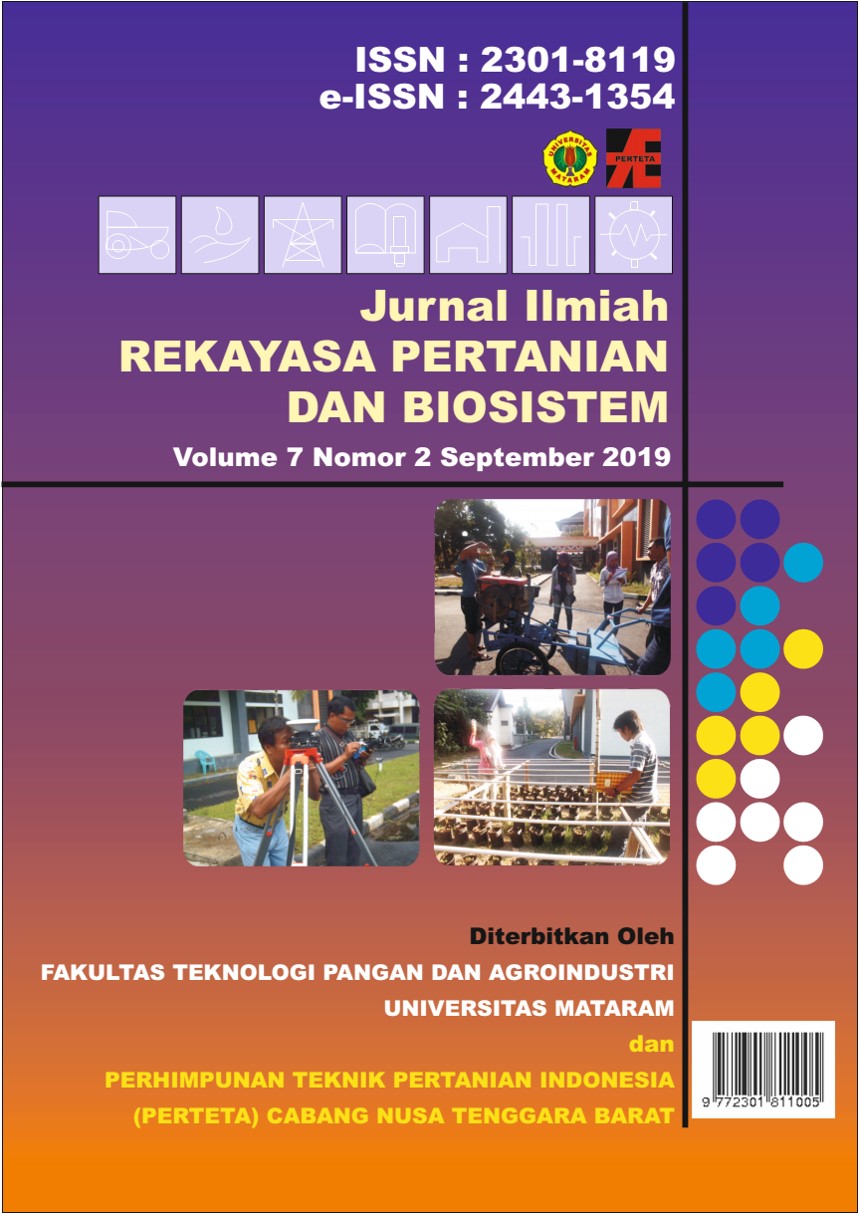 Copyright Notice

Jurnal Ilmiah Rekayasa Pertanian dan Biosistem is licensed under a Creative Commons Attribution-ShareAlike 4.0 International License.